STUDIOS DIOGENIS
Saint George Beach
Naxos Town
843 00 Naxos Island
Cyclades, Greece
Tel: +30 22850 25314
Fax: +30 22850 25314
Email: info@studiosdiogenis.com
Web: www.studiosdiogenis.com
Diogenis Studios is a beautiful complex, located at a perfect setting at Saint George Beach, just 10 metres from the beach and offers spectacular view to the Aegean Sea.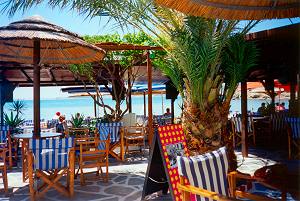 Accommodation in Naxos Studios Diogenis Finikas beach cafe It consists from the accommodation building and a beach cafe that is the place you can spend hours relaxing, having a drink or a snack on the sandy beach and enjoy the magnificent beach.
You will feel the joy of watching the magic blue of the sea or having romance and relax in the evening in the unique environment.
Studios Diogenis offers studios and apartments that can accommodate from a single up to 4 persons family. Its position, on the beach, makes Diogenis the ideal place for beach lovers, careless and memorable holidays.
All rooms are air-conditioned and equipped with kitchenette and refrigerator. Maid is offered on daily basis.
Welcome to Oasis Studios!
OASIS studios is a group of studios (could also be considered as: hotel, rooms, apartments) on the unspoilt beach of Mikri Vigla, Naxos and successfully combine modern facilities with the traditional Cycladic architecture. It is a 20min drive away from Naxos harbour and 120m. from the beach of Parthenos.
During the day you can enjoy swimming in the pool or in the crystal waters of the beach nearby or even try some sea sports like windsurfing and kitesurfing. Also you can enjoy snacks, refreshing shots and exotic cocktails at the cafe pool bar Oasis.
At night you can chill out enjoying your drink next to the pool or even on the beach.
Home | Useful Information | Guestbook | Reservations / Contact |
Services and Facilities at Oasis Studios!
OASIS studios is a group of studios (could also be considered as: hotel, rooms, apartments) on the unspoilt beach of Mikri Vigla, Naxos and successfully combine modern facilities with the traditional Cycladic architecture. It is 20 km. away from Naxos harbour and 120 m. from the beach of Parthenos.
General Facilities
Garden
Swimming pool
Snack bar – Pool bar
Private Parking area
Breakfast room
Main Lobby
Reception
Internet cafe
Bookcase with magazines and books
Colour Satellite TV in Reception area
Storage room for boards and sails
Map, magazine and useful information for the island
Umbrellas and towels for the beach
Room Facilities
Daily Cleaning Service (towels every day, sheets every 2nd day)
Room Service
Air conditioned and heated
Sun-drenched verandas with a sea view
Private bathroom with shower (hot – cold water)
Colour TV
Radio music
Fully equipped kitchenette with refrigerator
Direct dial telephone
Hair drier
Safe box
Our Hotel complex, offers to you for a lot of years his unique hospitality and recently in new renovated spaces where they are also been disposed for events.
Accommodation

First of all we would like to present you the beautiful island of Naxos, which is found in the centre of Aegean, in the Cyclades.

It allocates beautiful golden beaches and graphic settlements of traditional architecture.

Room services

» Bathroom
» Refrigerator
» Cooker
» Television
» Air conditioning
» Balcony
» Hair dryer
» Small bed for baby
Our Restaurant Gorgona in Agaia Anna Naxos
Our H chef is famous for the variety of our foods with rich seafoods and fishes and not only… meats, rich appetizers and a big variety of salads.
The fishes that we serve are all fished from our local sea.The Menu includes fresh fishes as mullets, lobsters, swordfish, scorpion-fishes, squid, cuttlefishes, octopuses, prawns, craw fish and many other…
We recommend our lobster& spaghetti , caviar fried cheese, prawns, squid, octopus, mussels and a lot of other. Used everywhere only olive oil and sunflower oil for fried foods. Wine of local our own production, local alcohol.
Our meats are all local from our island.
We Host events like, Chistenings and Wedding receptions .
Naxos Kalimera Hotel
is a brand new Family Hotel / Pension

situated on the top of a hill just 400m

from the famous sandy beach of Agia Anna.Our hotel is ideal for those seeking peaceful vacation

as it is away from the noisy, crowded, touristy heart of Agia

Anna and yet near the beach of Agia Anna.

The family environment and tranquility will make your

holiday on Naxos an experience hard to forget.

The hotel consists of 4 apartments and 5 studios

which are distributed sparsely over two floors and thus

all of them offer panoramic views of Naxos Town and

the sea extended from Agios Prokopios beach to Mikri Vigla beach

Hotel Kalimera Apartments

Each apartment has 2 separate rooms

with one double (queen size) bed and two single beds in total.

All the apartments can with extra beds

(and sofa beds) accommodate up to 6 people.

The bedroom features also a dresser with mirror, wardrobe, SAT TV , and A/C . You will really enjoy our apartments' comfortable patios with cool sea breezes and spectacular views!

Hotel Kalimera Studios

Each of our spacious studios have one bedroom

and can accommodate up to 3 people.

Each Studio is fully furnished and equipped with

Air-Conditioning, SAT TV, and hairdryer .

The private balcony offers views towards the sea.
All the studios and the apartments have a fully equipped
kitchenette and a private bathroom. The kitchen features a double electric hot plate, coffee maker, fridge and dinning table.

The private bathroom has a bathtub shower with hot water

available 24 hours a day!

Profile: The Villa Polemis is ideal choice for those that seek the combination of warm of hospitality and authenticity in the Cyclades environment of Naxos, in the region of Saint Anna. Precisely 20 meters from the sea we will host you in our spotless and beautiful rooms. Our objective is that we provide you with great service.
Profile: In Stella apartments in Naxos you will find the hospitality and the friendly atmosphere that we created for our costumers establishing a warm personal relationship.Our unit is located after Agia Anna, at the beginning of the area Plaka Beach. This gorgeous beach and its natural beautifulness with the sand dunes makes it the most special beach of Cyclades.The RoomsWe own 30 rooms and apartments

(2-room apartments) for 2 to 5 persons with kitchen, bathroom, satellite TV, safe, air-condition, heating, hair dryers and big verandas.
Hotel Facilities
Room Facilities
• Garden,
• Air conditioning• TV• Satellite TV

• Internet Service

• Breakfast

• Sea view• Balcony• Veranda

• Central heating

• Air conditioning

And Much more
Profile: We created an earthly paradise 4000m2 of own gardens only a few paces away from the Chora of Naxos, set on the beach of Agios Giorgis and we named it Alkyoni.In our traditional taverna-restaurant, we cook for you home made foods with local products.

The quality, the smile, the friendly service and above all the hospitality of ALKYONI'S creators guaranteethe best and most memorable holiday experience you ever had.

We are looking forward to offering you our hospitality!!

Swimming PoolChildren Pool Swimming pool bar Garden Sitting room
TV Satellite TV Internet Service WiFi (Public Areas) Breakfast
Restaurant Bar Parking lot Reception Credit cards Exchange
Rent a car Safe box Wake up service Doctor On Call

Excursions – Tours Laundry Pets Allowed
The Rooms
All our rooms of the hotel are equipped with air condition, refrigerator, satellite TV, verandah and direct dial telephone. They are traditionaly built, most of them having an excellent sea view and the rest with an equally beautiful view of our gardens and swimming pool.
Glyfada Restaurant and Accommodation rooms in Naxos
Profile:

Above in the beach of Glyfada are found 5 comfortably double rooms with refrigerator, TV, fan of roof and 1 spacious apartment that accommodates up to 5 individuals.

All have individual balconies or verandas witd view tde beach tdat is found hardly 10 metres long.

Restaurant

In the same group functions for 10 years traditional tavern in which we use always fresh naxian products of most of which are our production.

Ideal moment is the hour of sunset company with a glass of glyfadas wine and our own cheese.
Menu
Wine Fish Salads Grill Appetizers
Location
You can find us 16 kilometers from Naxos Town, where you can find the port and the airport.
Just in front of Glyfada beach which is located near Kastraki and Aliko.
In the near area you can find small lonely beaches where you can enjoy swimming.
Special prices
Rrom May until end of June and from 28 of August until end of September. For reservation more than 10 days discount 10%
Room facilities

* refrigerator

* TV

* fan of roof
* sea view

* balcony
* veranda

* restaurant
* sea sports

Learn more about contact and booking details…
Summer Memories studios-apartments in Naxos
Profile:All the studios are very spacious and they can accommodate from 2 up to 4 persons.They are air-conditioned, very clean and are fully furnished and equipped with kitchen, refrigerator, television, fan and each one has a private balcony or veranda with sea view, WC and shower, hair dryer.

Babycot is available and it is offered at no extra charge.

Summer Memories Studios is a complex of 8 beautiful studios surrounded by beacutiful gardens, leaving enough space for more leisure.

The studios are very spacious and they can accommodate from 2 up to 4 persons.

The complex is situated at a quiet location at Saint George beach (Flisvos area), 100 metres from it, in Naxos Town and very close to the water sport – wind surfing facilities and centre.

Apart our warm hospitality, we also offer complimentary fresh local products from our own production, whenever these are available. .
Hotel's facilities

Free transfer to and from the port or airport
Private parking
Daily maid
Babycot at no extra charge
Complimentary fresh local products from our own production, whenever they are available.
Fully furnished
Air-conditioning
Kitchen
Refrigerator
Television
Fan
Balcony or veranda with sea view
WC and shower
Hair dryer
Studios & apartments in Naxos
Profile:

Kolona Studios and Apartments – Panagia Parthena are located right next (just 5 metres) to the beautiful beach of Parthena (Mikri Vigla), on Naxos Island.

Mikri Vigla is reputed to have one of the very best beaches in Naxos Island and it is wind surfers paradise. It is also reputed for the beautiful turquoise colour of the sea.

It is an ideal place for relaxation, for beach lovers, for all of you who wish to spend their holidays in a beach resort away from the hassle of the town.

The complex consists from 3 spacious studios and 6 two roomed apartments which they can accommodate from a single up to four persons.

All are fully equipped with kitchen, TV, hair-dryer and have 2 balconies with magic view to the sea and the sunset.

It is a paradise for all who wish to spend a memorable family vacation and for the wind-surfing lovers.

At a distance of 50 metres the complex restaurant offers delicious home-made food with our preservatives-free vegetables, chesses and meat.
Complex facilities

All of the studios and the apartments are fully equipped for a comfortable stay.
Room facilities include
Kitchenette equipped with utensils
Refrigerator
Private toilet and bathroom
Private entrance
2 verandas with superior sea view
Hair dryer
Complex facilities and Services include
Private parking
Daily maid
Ample of space for your wind surfing equipment
Cafe and Restaurant

Learn more about contact and booking details…