STUDIOS DIOGENIS
Saint George Beach
Naxos Town
843 00 Naxos Island
Cyclades, Greece
Tel: +30 22850 25314
Fax: +30 22850 25314
Email: info@studiosdiogenis.com
Web: www.studiosdiogenis.com
Diogenis Studios is a beautiful complex, located at a perfect setting at Saint George Beach, just 10 metres from the beach and offers spectacular view to the Aegean Sea.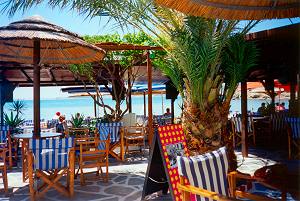 Accommodation in Naxos Studios Diogenis Finikas beach cafe It consists from the accommodation building and a beach cafe that is the place you can spend hours relaxing, having a drink or a snack on the sandy beach and enjoy the magnificent beach.
You will feel the joy of watching the magic blue of the sea or having romance and relax in the evening in the unique environment.
Studios Diogenis offers studios and apartments that can accommodate from a single up to 4 persons family. Its position, on the beach, makes Diogenis the ideal place for beach lovers, careless and memorable holidays.
All rooms are air-conditioned and equipped with kitchenette and refrigerator. Maid is offered on daily basis.
August 7, 2009 · Posted in
Accommodation in Greece
,
Apartments
,
Cyclades
,
Greek islands
,
Hotels
,
Hotels in Greece
,
Naxos
,
Naxos Travel
,
Naxos accommodation
,
accommodation
,
hotel rooms Naxos
,
naxos apartments
,
naxos hotels
,
naxos studios
·
Comment
Naxos Greece – Alkyoni Beach Hotel on Naxos Island – Chora – The Rooms and apartments.
All our rooms of the hotel are equipped with air condition, refrigerator, satellite TV, verandah and direct dial telephone. They are traditionaly built, most of them having an excellent sea view and the rest with an equally beautiful view of our gardens and swimming pool.
We created an earthly paradise 4000m2 of own gardens only a few paces away from the Chora of Naxos, set on the beach of Ai Giorgis and we named it Alkyoni.
The Hotel
The Rooms
The Pool
Facilities

Location

Pricelist
Booking Form
Guestbook
Image gallery
INFORMATION:
ALKYONI BEACH HOTEL
TEL.: (+30 22850) 26136/25987, Fax: (+30 22850) 23499, Winter Tel: (+30 210) 7790165
Naxos Island – Chora – Cyclades Islands – 84300 Greece, Email: alkyoni@ath.forthnet.gr
Restaurants in Naxos
Profile:

The ''Platia'' restaurant has been established as the ideal place in Naxos for those who want to enjoy local greek dishes, using ingredients from our island's rich local produce. You just have to choose the dish you prefer from the wide selection on our menu !
Apostolis Margaritis .
Cover, Appetizers, Salads
, Soups, Cheeses, Cooked in oil,
Spagheti,
Cooked dishes, Grilled,
Rotisserie Meat, Steak, Sea food, Fruits, Desserts, Breakfast, Yoghurts, Fruit salads, Snacks, Beverages, Ice creams, Refreshments, Beers, Drinks, Juices, Milkshakes, White Wines,
Rose Wines, Red Wines, Retsina
We are looking forward to meeting you in the wonderful island of Naxos!