STUDIOS DIOGENIS
Saint George Beach
Naxos Town
843 00 Naxos Island
Cyclades, Greece
Tel: +30 22850 25314
Fax: +30 22850 25314
Email: info@studiosdiogenis.com
Web: www.studiosdiogenis.com
Diogenis Studios is a beautiful complex, located at a perfect setting at Saint George Beach, just 10 metres from the beach and offers spectacular view to the Aegean Sea.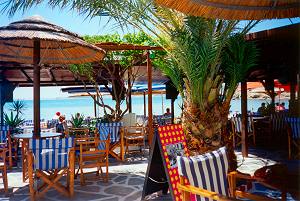 Accommodation in Naxos Studios Diogenis Finikas beach cafe It consists from the accommodation building and a beach cafe that is the place you can spend hours relaxing, having a drink or a snack on the sandy beach and enjoy the magnificent beach.
You will feel the joy of watching the magic blue of the sea or having romance and relax in the evening in the unique environment.
Studios Diogenis offers studios and apartments that can accommodate from a single up to 4 persons family. Its position, on the beach, makes Diogenis the ideal place for beach lovers, careless and memorable holidays.
All rooms are air-conditioned and equipped with kitchenette and refrigerator. Maid is offered on daily basis.
Hotels in Naxos
Profile:Galaxy Hotel , one of the most "IN" hotels of the island Naxos , made strictly with the traditional cycladic architecture, provides to its guests all the comforts for the ideal holidays. There are 54 perfectly designed and functional rooms and studios.

The Galaxy Hotel has also a breakfast room, a TV. room, snack bar, children's play ground, information desk, a private parking and big gardens.

All of the rooms provide, telephone, music, satelite TV, W.C. – shower, refrigerator. Studios have also kitchenette unit. Almost every room or studio has balcony or terrace with a view to the sea.
Hotel's facilities

Bar | Breakfast | Reception | Sitting room | Television / Satelite TV | Air condition | Garden | Swimming pool | Pool bar | Laundry | Excrusions / Tours | Dumble dryer / Ironing | Waking up service | Credit cards admitted

| Rent a car | Safe box | Transport from / to hotel | Parking lot | Nautical sports | Childrens' playground
Learn more about contact and booking details…
Hotels in Naxos
Profile:Hotel Spiros is a family run, just a few metres away from the beautiful Saint George Beach, with all facilities and services for a dreamy holiday.

Built in cycladic style, Hotel Spiros is a friendly and relaxing hotel ideal for families, couples, singles or those who want to holiday in a convenient area, right next to all amenities.

A 200 metres stroll will bring you to Naxos Town main square and half this distance away is the sandy beach.

Saint George Beach resort is an ideal place to sit back and relax or absorb all the activities going on. Saint George beach is the heaven for beach lovers.

Hotel amenities are plentiful and include swimming pool, loungers, sun umbrellas and breakfast room.

Hotel Spiros has very spacious studio rooms and two-roomed apartments, fully equipped for a comfortable stay.

The studios can accommodate from 1 up to 4 people and the two-roomed apartments can accommodate from 2 up to 4 people.
Hotel's facilities

Hotel Spiros is a family run complex, of excellent standard with comfortable rooms and friendly and relaxing atmosphere.

There are good facilities and the hotel is well suited for couple, families with children, singles as the main beach resort is only 100 metres away and town's main square is just 200 metres.
Hotel Facilities and services include

Snack-bar
Swimming pool
Reception / lobby
Satellite TV
Safety deposit boxes
Buffet breakfast

Buffet breakfast
Air-conditioning
Laundry service
Email service
Transfer on request
Visa & MasterCard accepted
Learn more about contact and booking details…
Princess of Naxos hotel in Naxos
Profile:

At the centre of Aegean Sea, where the deep blue sky meets the boundless sea, the nicest island of , Cyclades Naxos is located. Naxos to Saint George's beach one of the most beautiful beaches of the island is situated the Hotel Princess of Naxos which can offer you its hospitality during your holidays.

Hotel "Princess of Naxos" is a brand new building which functioned for first time in August 2004. It is located in a 10 minutes distance on foot from the centre of Naxos town and just 30 meters from the golden sandy beach of Saint George where the sea lovers have the opportunity to enjoy a great variety of water sports, such as wind surfing, kite surfing, jet ski, etc. Due to its location and its competitive price packages, our hotel can accommodate not only leisure but also professional travellers.

As far as the rooms are concerned, are fully equipped with fridge, A/C, satellite TV, hair dryer, telephone and Internet. We also dispose of studios fully equipped as well, with kitchen for those visitors who desire to prepare their meal by themselves. In addition, a daily cleaning of the rooms is provided as well as breakfast on request.

All of the rooms dispose of balconies and verandas with panoramic view to the sea as well as view towards the highest mountain of the island (1004m), Zas.

Trust Hotel "Princess of Naxos" in order to enjoy comfortable, pleasant and simultaneously economic holidays at the most fascinating island of Cyclades, Naxos.

We are looking forward to meeting you!!
Hotels in Naxos
Profile:Hotel Margaritari is located in Agia Anna on the island of Naxos. Built on a beautiful location with regard to the Cycladic tradition, designed with care and style.

The unlimited view of the sea captivates you.

Hotel Margaritari has 5 apartments for family needs and 9 studios. All equipped with A/C, fully equipped kitchenette, TV, phone, hair dryer, hot water available 24 hours and panoramic view. It also has a parking area.
Accommodation in Naxos

Hotel "MARGARITARI" is situated in Agia Anna. of Naxos, 400m from the beautiful beach of Agia Anna. Having opened for one year, the hotel with a panoramic view to the sea, fully equipped with friendly and relaxed atmosphere, offers you a pleasant and unforgetable stay.
Learn more about online reservation and contact details
Hotels in Naxos
Profile:

Island and Venetian architectural domination with hints of blue sky and sea give the NAXOS ROYAL BEACH HOTEL the glamour, the luxury and the nobility of a cycladic painting.

Built a few yards from the endless sand beach of Ag. Georgios, with the golden sand and the shallow crystal blue waters, the king and lord of Naxos seems to be gazing at the open sea, having the colour of a unique land scape by the sunset.
Accommodation in Naxos

91 luxurious and comfortable rooms, family rooms and 2 beautiful newlyweds rooms add another beautiful not to the hotel.
Equipped with central air-conditioning and heating, bathrooms, showers or jacuzzis promote the beauty of the space, hair dryers, minibars, satelite television, music, money safes, internet and telephone lines are the provided services.
All Naxos Royal Beach Resort rooms are air-conditioned and include the following hotel facilities:
private bath with a hair dryer | mini bar | TV | living room | sitting area | phone | music system | safe deposit box | balcony/veranda with marvelous sea view and mountain view | internet access

Learn more about online reservation and contact details
Hotels in Naxos
Profile:NAXOS… Endless sandy beaches, picturesque villages with intense Cycladic color, gardens, river beds and high mountains.A stroke of brush only, a tiny piece of land, washed by the whiteblue water of the Aegean Sea.

In the inner part of the island the ancient Venetian castles, the Byzantine churches and the monasteries, the unique archaeological sites will fill the visitor with beauty.

Our hotel, Porto Naxos is located at 1 kilometer distance from Naxos Town, 2 kilometers from the Ports and the Airport and 200 meters from the beach of Aghios Georgios.
Hotel's facilities

Large balcony | Modern bathroom | Hairdryer | Color TV | Air-conditioning | Direct dial telephone | Mini bar | Three channel music | Room Service | Disabled access | Currency Exchange | Safe deposit boxes | Credit cards accepted
| Large swimming pool | Sauna & Tennis court | Bar & Pool Bar / Snack Bar | Babysitting (upon request) | Doctor on call | Laundry Service | Mini Market
| Hair dresser | Car parking | Satellite TV Room | Gym | Souvenir shop
Learn more about contact and booking details…