STUDIOS DIOGENIS
Saint George Beach
Naxos Town
843 00 Naxos Island
Cyclades, Greece
Tel: +30 22850 25314
Fax: +30 22850 25314
Email: info@studiosdiogenis.com
Web: www.studiosdiogenis.com
Diogenis Studios is a beautiful complex, located at a perfect setting at Saint George Beach, just 10 metres from the beach and offers spectacular view to the Aegean Sea.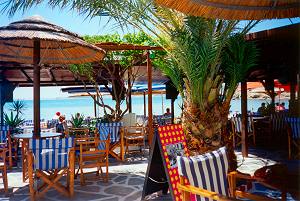 Accommodation in Naxos Studios Diogenis Finikas beach cafe It consists from the accommodation building and a beach cafe that is the place you can spend hours relaxing, having a drink or a snack on the sandy beach and enjoy the magnificent beach.
You will feel the joy of watching the magic blue of the sea or having romance and relax in the evening in the unique environment.
Studios Diogenis offers studios and apartments that can accommodate from a single up to 4 persons family. Its position, on the beach, makes Diogenis the ideal place for beach lovers, careless and memorable holidays.
All rooms are air-conditioned and equipped with kitchenette and refrigerator. Maid is offered on daily basis.
November 22, 2007 · Posted in
Accommodation in Greece
,
Apartments
,
Cyclades
,
Greek islands
,
Holidays in Greece
,
Hotels
,
Hotels in Greece
,
Naxos
,
Naxos accommodation
,
Studios
,
Travel
,
Travel in Greece
,
accommodation
,
naxos apartments
,
naxos hotels
,
naxos studios
·
Comment
Hotels, studios and apartments in Naxos
Profile:Located in the bay of Angali and almost near by the sea-shore, Finikas will contribute successfully to make your vacations unique and unforgettable. The elegance and our environmentally friendly attitude are the main factors that compose the decoration of Finikas. The outstanding stone, the transparent marble and the pebble prevail all over the premises while the colors that are chosen for the main facilities and additionally for the administrative buildings are absolutely in harmony with the grandeur of nature. Hotel Finikas offers comfortable rooms including panoramic view to the sea and the swimming pool, luxurious furniture and qualitative coating with tints of opal.
Hotel's facilities
Transport from/to Hotel | Sea view | Gymnasium
| Swimming Pool | Balcony | Children's playground
| Jacuzzi | Veranda
| Swimming pool bar | Central heating
| Garden | Air conditioning
| Sitting room | Telephone
| TV | Satellite TV
| Music
| Internet Service | Internet access
| Breakfast | Safe box
| Restaurant | WC
| Bar | Shower
| Barbecue | Bath tub
| Parking lot | Hydro Massage
| Games | Hair dryer
| Conference Room | Refrigerator |
Reception | Credit cards | Baby Cot
| Rent a car
| Wake up service
|Baby Sitting
| Laundry
| Tumble dryer
| Ironing
| Access for disabled

It is the ideal place for those seeking relaxations . The premises respect the local architecture. Natural beauty is combined with cutting-edge technology. Its architecture blends in harmony with the local colour and the natural habitat.

Learn more about the apartments and contact details…